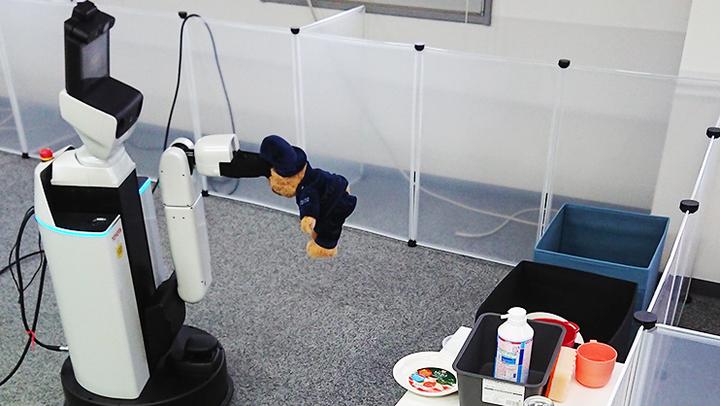 Against the backdrop of a declining population and aging society, automation in highly diverse environments such as home environments is expected.
In our group, we aim to realize general-purpose robots that can perform a wide range of tasks in diverse environments by utilizing robot learning, which is a method for learning robot control using machine learning techniques. As part of these activities, we are conducting experiments to build a real robot system that can perform daily life support tasks in a home environment using machine learning technology.
As the robot hardware, we use HSR(Human Support Robot) (Human Support Robot), which is a mobile manipulator developed by Toyota Motor Corporation.
We are actively participating in technical competitions such as RoboCup as an opportunity for quantitative measurement of the developed robot system and for the technical study of the group members.
In the RoboCup Japan Open held in December 2020, we won the Technical Challenge Championship and the DSPL League Second Prize, although it was our first time to participate.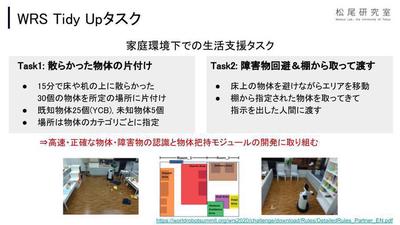 Currently, we are brushing up the system with the aim of winning a prize in the Partner Robot Challenge at the World Robot Summit 2020 to be held in 2021.
The content of this project is also being taught as a project exercise type lecture as part of the "Artificial Intelligence Application Project", which is part of the "Creative Manufacturing Project" of the School of Engineering, the University of Tokyo and the "Creativity Engineering Project" of the Graduate School of Engineering, starting in the summer semester of 2021. (Credits will be granted for development activities in this project). For more details, please click here.